A lot has been going on at with the radfam lately!  Here's a few highlights:
We got renters in our Springville house!  It took a little longer than we hoped, but we did it.  Of course we could have accepted the family with six kids chomping at the bit to give us some dough, or the unemployed couple with 2 kids on food stamps that insisted they've never missed a rent payment before.  But, you know, Shalauna and I had to find the perfect match.  Did we do it?  Time will tell, but we are excited to have a nice elderly retired couple moving in soon.  Cheers to being landlords!
We are loving our new ward, everyone is really cool and it's a small bunch!  Shalauna was recently selected to be the Activity Day leader for the primary age girls (8-11).  I think she'll do great, especially since she rocked it as the Girls Camp leader in her last calling.  Plus, she's got a knack for having fun.  I am in the primary – teaching CTR6.  I teach my first lesson tomorrow.  I hope those 6 year olds are ready!
Last week was Zac's baby blessing.  It was really great to see everyone and celebrate Zac coming into this world.  We are so lucky to have such great family and friends that love and support us.  Here's some photos from the special occasion (in no particular order):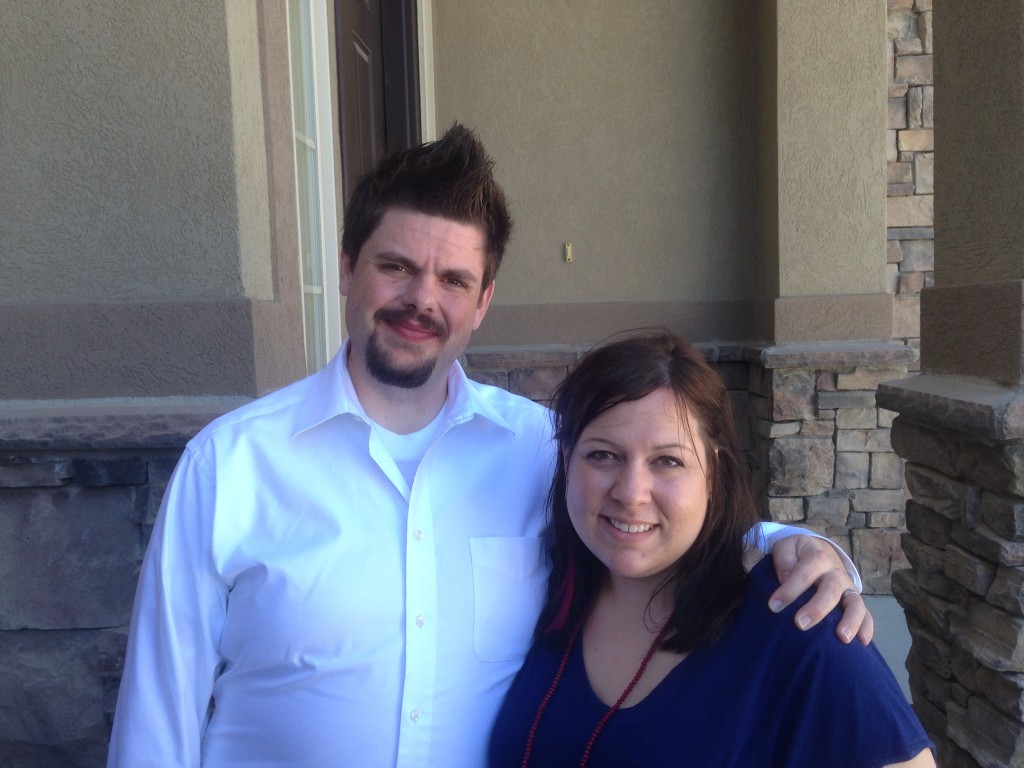 Don't Tyson and Aimee look great?  I'm proud to say we're related AND best friends.  They live in South Jordan which is a sneeze away from us, so we love it.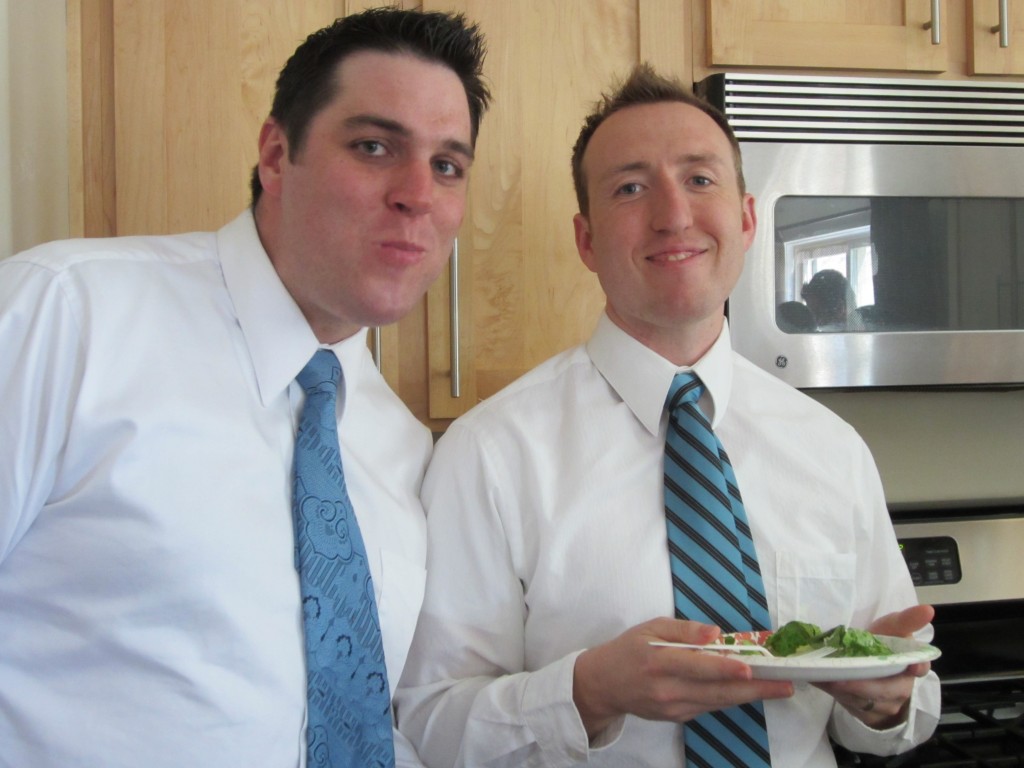 My boys Mike Baird and Adam Dunn.   Mike and I met 7 odd years ago when we worked at the same place in college.  "Rock on Babylon" and Collective Soul bonded us instantly.  Adam and I have been friends and computer geeks since High School, he's my goto guy when I need to talk binary and get jazzed up about a new business idea!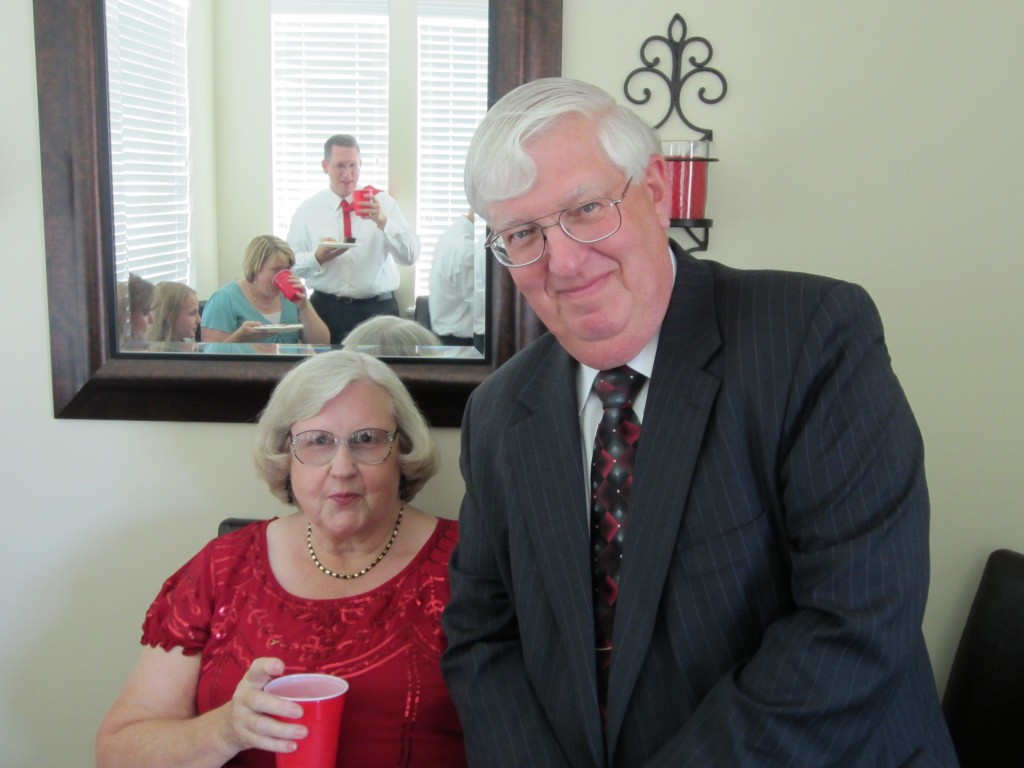 This shot is a two for one.  We have Keith and Melleta Kelly (Shalauna's Parents) in the foreground and Shane and Sariah (Shalauna's oldest brother and sister-in-law) in the mirror.  Great shot, great peeps.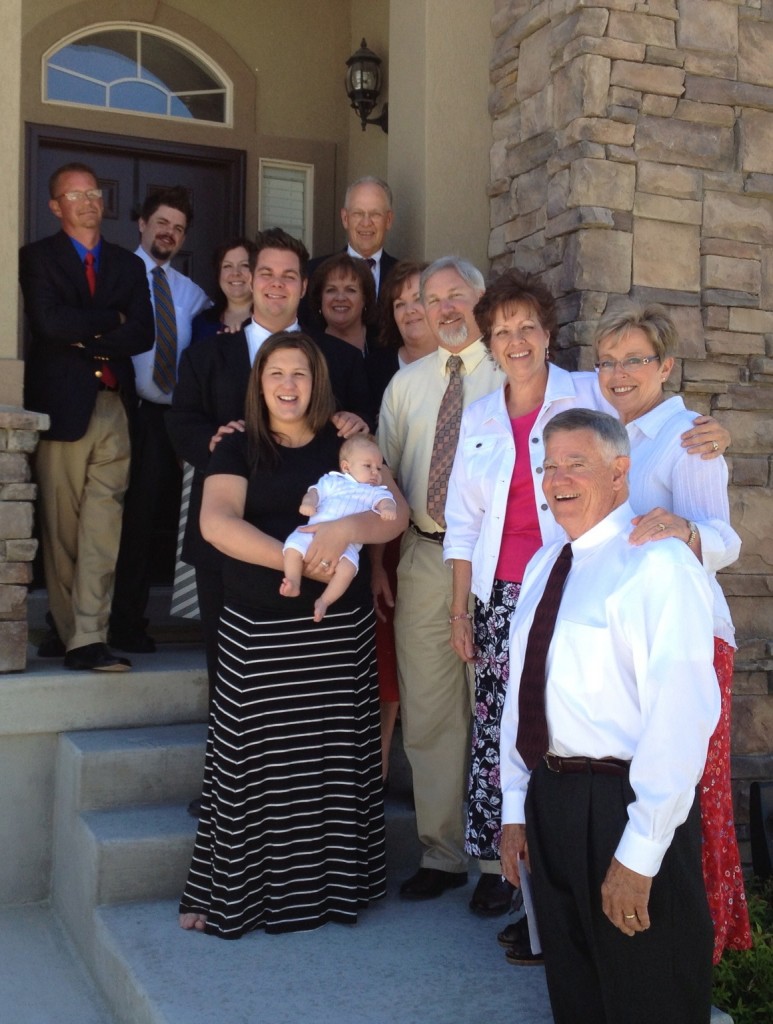 The Evans clan.  This is my mom's side of the family.  You can find my mom hidden in the back to the right of me.  Hi Mom!  We love these guys, thanks for showing your support!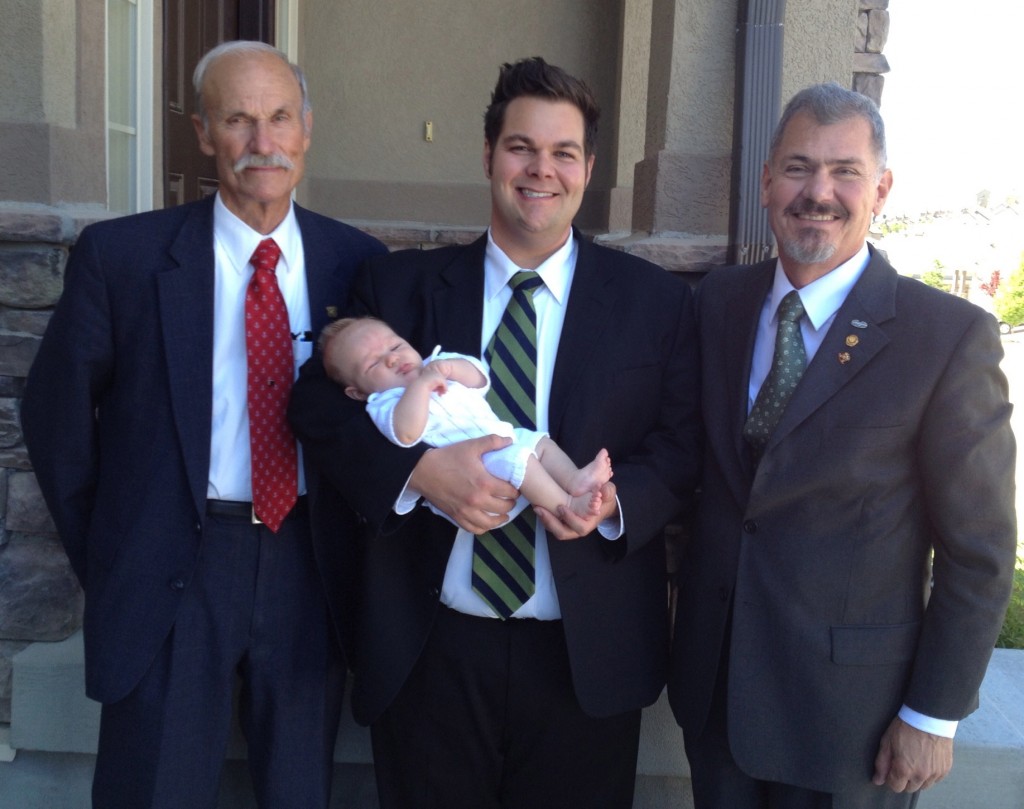 This photo is epic!  It shows four generations of Waters'!  My Grandpa Waters, My Dad, Me, and little Zac.  So cool.  It was great to have my grandma and grandpa Waters up to my place for the first time.  And my Dad surprised me and drove all the way here from Spokane, Washington to be at the baby blessing.  That really made my day!
Grandma and Grandpa Waters.  I swear, grandpa keeps getting funnier and funnier every year.  And no, I don't mean crazy.  He's hilarious.  And grandma is the sweetest, even after waiting for me and grandpa to stop joking around for 30 minutes all while standing in high heels in the drive way!
We got a lot of photos, but wouldn't you know it… not a single photo of just me, Shalauna and Zac. Whoops!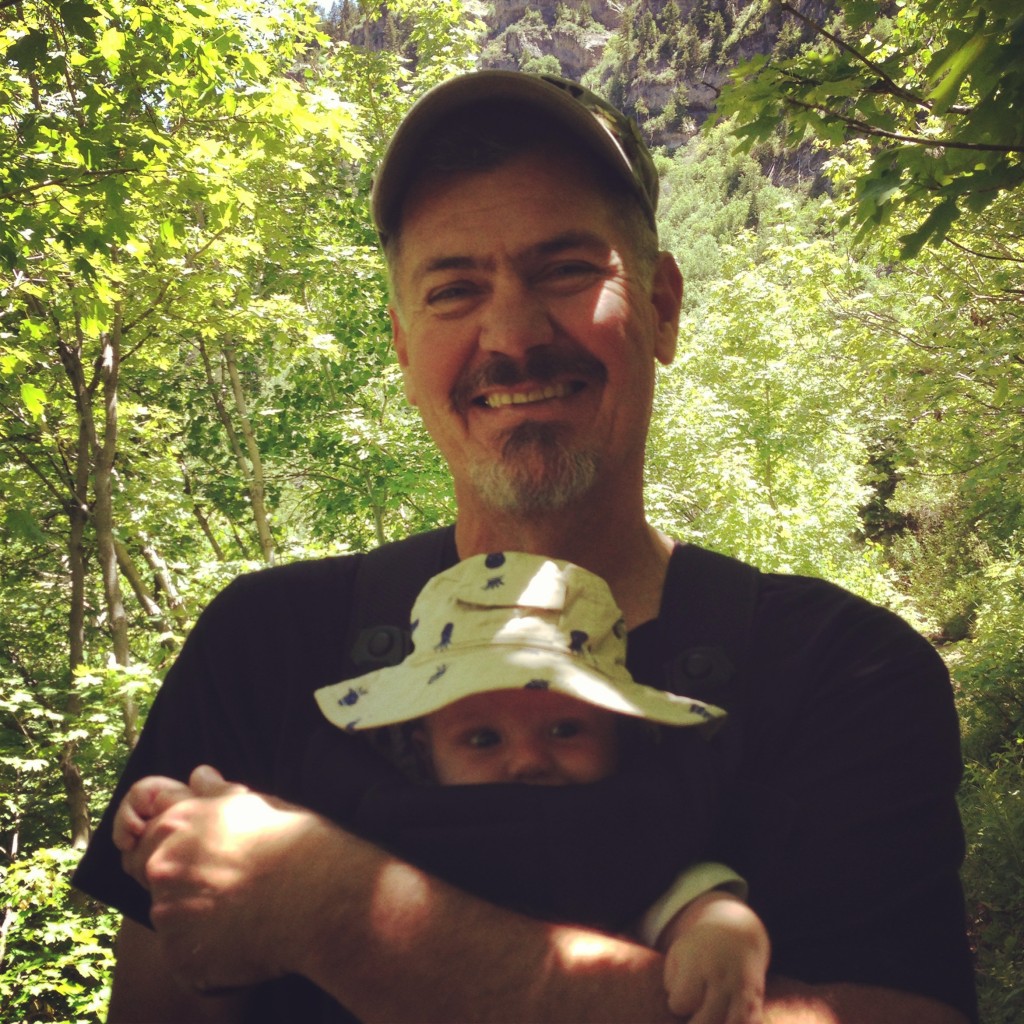 The day after the baby blessing I took the day off work since my dad was in town.  We decided to do Shalauna's favorite hike: Stewart Falls.  It was a blast.  We took Zac along for the hike using the Baby Bjorn.  Here's a photo of my Dad and Zac hiking back from the falls. So cute.
Did you know Zac is 11 weeks old today!?  Time flies.  He has grown so much and we love him more and more each day.  I couldn't imagine not having him in our family now.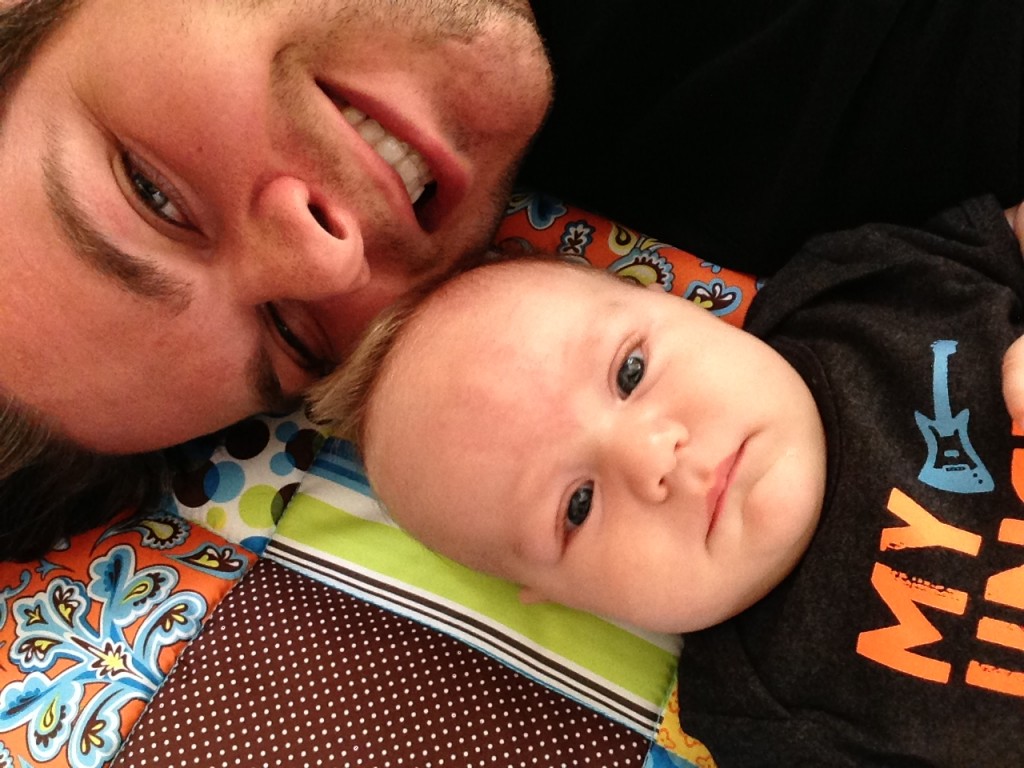 Shalauna got Zac a play tent (and she says she doesn't like camping!) that toys can dangle down for him to play with.  He loves it and I could't resist poking my head inside to play too.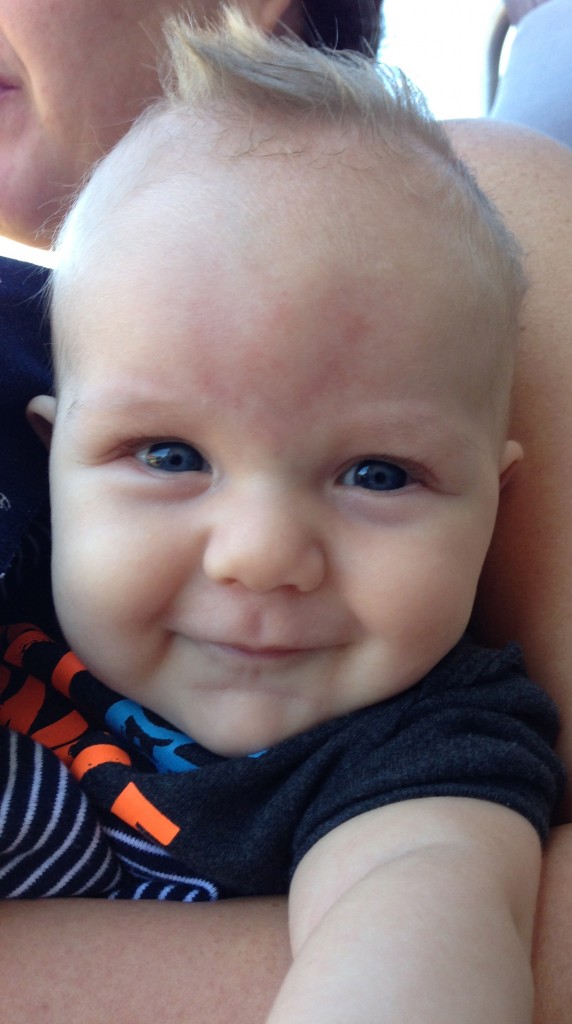 You know how some people have babies and when you see them you just smile and say, "He's so cute!!", even though you secretly think their baby is ugly?  Well, I know I'm biased, but I think we have a genuinely cute little boy right here.  At least we think so, and everyone else is doing a great job smiling and telling us the same. 🙂